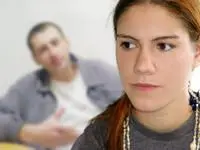 The task of parenting can overwhelm even the most competent of adults. Some parents find it difficult to put their teen in therapy because they think it both stigmatizes the child and implies that they've failed in some way as a parent. Adolescents don't always ask for help when they need it. Therefore, just as you would show your love for your child by taking them to a doctor when they're sick, you show that same love by finding a professional to help with their behavioral or emotional issues.

Seeing your child in pain, having trouble communicating with them or other parenting issues can disrupt a loving parent's life as well as the household in general. A child's adolescent years are naturally so turbulent they can arouse anxiety, confusion and pressure in both child and parent. Adolescents often act out what they are unable to articulate in words. The work of an experienced family therapist is to translate the meaning of these behavioral cues into a framework that entire family can comprehend.
As a therapist working with adolescents and their parents, Dr. Eli provides guidance, resources, suggestions, interventions, and parenting strategies applicable to the unique developmental needs of the individual adolescent. Understanding how adolescent problems intersect or play out with normal developmental processes in any given period may be difficult for parents. Dr. Eli works with adolescents that:
Experience low self-esteem
Suffer from depression
Exibit excessive anxiety
Abuse alcohol or drugs
Act rebellious, angry or defiant
Struggle with peer relationships
Falter academically
Abuse alcohol or drugs
Seem impulsive or hyperactive
Wrestle with emotional trauma
Suffer mood swings and attitude shifts
At the same time, Dr. Eli can work with you, the parent(s) to resolve family conflicts and improve communication skills so that you and your children can relate better.